Overview
Based on student exchange agreements, Mukogawa Women's University (MWU) accepts international exchange students from partner institutions every April and September.
Exchange students are able to take three types of courses: Japanese Language courses, General Education courses, and Undergraduate courses.
Exchange students who take Undergraduate courses are required to have sufficient Japanese ability as determined by a placement test administered after arrival, or by the Japanese Language Proficiency Test (JLPT) certification submitted with the application form.
1)Program Features
Exchange students can enroll in the following courses:
Japanese Language courses


These courses are for exchange students to improve their Japanese Language skills. Classes from beginner to advanced levels are available. Students will be placed into the appropriate level after taking a language placement test administered by a Japanese teaching specialist.

General Education courses


These courses provide students a wide range of knowledge and skills including, basic knowledge about historical ideologies, critical thinking skills in modern society, specific techniques, and independence. Various types of courses such as foreign language studies, Japanese cultures and society, career designing, sports, and law are open to all students regardless of major. Some courses are taught in English.

Undergraduate courses


If students demonstrate sufficient Japanese language proficiency either by placement test score or JLPT certification, they will be allowed to take departmental courses. The courses include high level academic subjects related to majors that enable students to learn field-specific knowledge as well as improve Japanese language ability.
2)Language Partner
Exchange students will have language buddies called "Language Partners" who will support their living in Japan. Each exchange student will meet two language partners soon after arrival and can ask them anything about living in Japan. Exchange students can also practice Japanese communication with them.
3)Evaluation
Course grades will be evaluated using the following scale:
| Points | Grade |
| --- | --- |
| 100~90 | S |
| 89~80 | A |
| 79~70 | B |
| 69~60 | C |
| ~59 | F |
4)Credit
MWU will issue academic transcripts for exchange students after completion of the program. Earned credits will be transferred to home universities in accordance with the policy of each university. Students are expected to ask about credit transfer at their own universities prior to departing for Japan. In accordance with the policy of the Japanese Ministry of Education, MWU defines one credit as equivalent to 15 hours of lecture class time.
Academic Calendar
Student Dormitory
Exchange students are required to stay in Teiwa-ryo, one of MWU's dormitories. Students will have the opportunity to experience short-term homestays during the summer and spring vacation periods if they wish to do so. Dormitory fees will be subtracted from scholarship funding.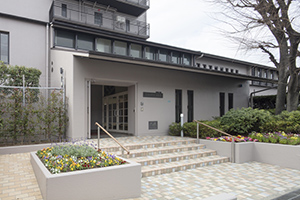 Student Life
1)Living Expenses
The estimated cost for living in the Kansai region is 80,000JPY 〜 100,000JPY per month including dormitory fees. Exchange students should establish a sufficient funding plan before coming to Japan.
2)Scholarship
MWU provides all exchange students one of the three scholarships listed below. Students who will be awarded either the HUMAP or JASSO scholarships will be notified prior arrival through their home universities.
Scholarship Type

Provider

Fee

Note

MWU Scholarship

MWU

65,000JPY/Month

HUMAP Scholarship

HUMAP

80,000JPY/Month

Students who receive either scholarship will be notified beforehand.

JASSO scholarship

JASSO

80,000JPY/Month
3)Insurance
National Health Insurance (fees for students)
National Health Insurance covers a portion of medical expenses for exchange students in cases of disease or injury in Japan. Seventy percent of medical expenses are covered by National Health Insurance. All exchange students are obligated to enroll in this insurance; however there are occasional exceptions depending on individual circumstances.
4)International Exchange
MWU hosts various events and activities to allow exchange students and Japanese students to interact with each other. This includes cultural experiences, Japanese language support, parties and field trips.
Application Procedures
1)Entry Requirements
Applicants must be female students who are enrolled at one of MWU's partner universities.
*Each university may have its own requirements for the exchange program. Please confirm the requirements with your own university before applying.
2)How to Apply
MWU notifies its partner universities of the application procedures according to the following schedule:
| Program Start Date | Notification Date |
| --- | --- |
| Spring Semester (April) | Beginning of September |
| Fall Semester (September) | Beginning of March |
FAQ